The Newsletter of the Mont Alto Historical Society
To read current issue click link below
Check This Page for New Activities
You Don't want to miss these great events.
UPCOMING SOCIETY EVENTS
HISTORICAL SOCIETY DISPLAY CASE
2018 Fall Exhibit
"

GLASS BASKETS

"
The MAHS exhibit case holds an assortment of personal collections of Glass Baskets.
We invite you to stop by the Borough Hall and see the unique collection.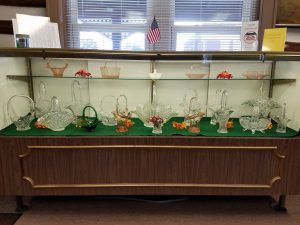 It is the Victorian period and early 1900's during which baskets flourished in America.
Glass baskets can be thought of as receptacles made of glass, with or without a handle. Or you can think of them as party dresses for flower arrangements. Some are frilly with ruffles along the top or bottom. Others are streamlined with simple lines. Some styles are quite playful with their dots, swirls or stripes. One example might glimmer; another might not shimmer at all. Colors can range from subdued and dignified to wild and bold. While pastels suit some personalities, others lean towards darker shades.